BIRDS of THE WORLD - An Online Bird Book
PROCELLARIIFORMES
Procellariiformes is an order of seabirds that comprises albatrosses, shearwaters, and various type of petrels. Wings are long and narrow; feet are webbed, and the hind toe is undeveloped or non-existent. Plumage is predominantly black, white and gray. They are almost exclusively pelagic (feeding in the open ocean). They distributed across the world's oceans, with the highest diversity being around New Zealand. Procellariiformes mostly nesting on remote predator-free islands. Only a single egg is laid per nesting attempt. The various species within the order have a variety of migration strategies. Many species undertake regular trans-equatorial migrations. However, no albatrosses cross the migrate across the equator because they rely on wind assisted flight.

The order has a few unifying characteristics, starting with their tubular nasal passages enclosed in one or two tubes on their straight, deeply grooved bills with hooked tips. These passages are used for smelling which helps to locate patchily distributed prey at sea and may also help locate their nests within nesting colonies. Also, they have a stomach oil stored that can be used as a food source during their long flights and also as a defense mechanism. All birds have an enlarged nasal gland at the base of the bill, above their eyes. This gland is inactive in species that don't require it; however the Procellariiformes do require its use due to their drinking of ocean water. It removes salt that forms a 5% saline solution that drips out of their nose or is forcibly ejected in some petrels.
Storm-Petrels
Order Procellariiformes Family Hydrobatidae
Storm-petrels
are seabirds in the family Hydrobatidae, part of the order Procellariiformes. They are almost exclusively pelagic (feeding in the open ocean). As a result, their legs are not well designed for walking and they move poorly around their nests. Most have dark brown or black upperparts and a white rump. These smallest of seabirds feed on planktonic crustaceans and small fish picked from the surface, typically while hovering. They often follow ships to feed on propeller debris. The flight is fluttering and sometimes bat-like. Most species nest in crevices or burrows and all but one species attends the breeding colonies nocturnally. They lay 1 white egg.
Genus Fregetta
Petrel, Black-bellied Storm-
Fregetta tropica
Found: Madagascar, Australasia
Image by: 1)
John Gould
2) Tim Lenz
3) Edward Rooks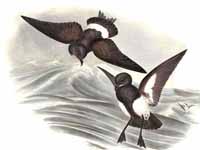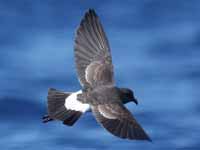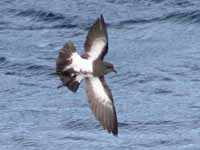 Petrel, White-bellied Storm-
Fregetta grallaria
Found: Asia, Australasia, Africa, South America
Image by: 1)
Danmantle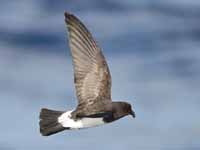 Petrel, New Zealand Storm-
Fregetta maoriana
Found: New Zealand Image by:
1,
2) Tom Tarrant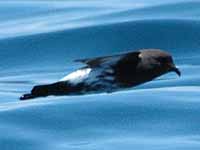 Genus Garrodia
- 1 species
Petrel,_Gray-backed_Storm-
Garrodia nereis
Found: Australasia, Africa, South America
Image by:
1,
2) David Cook
- Australia 3)
JJ_Harrison
- Tasmania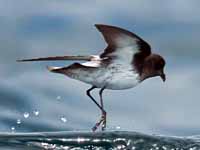 Genus Hydrobates
- 1 species
Petrel,_European_Storm-
Hydrobates pelagicus
Found: .North America, Europe, Asia, Africa Image by: 1)
Otter
- Scotland 2)
Fabian Montojo
3)
Muchaxo
Genus Nesofregetta
- 1 species
Petrel, Polynesian Storm-
Nesofregetta fuliginosa
Found: Chile, Fiji and other Polynesian Islands
Image by:
1,
2) Brad Schram
Genus Oceanites
Petrel, Pincoya Storm-
Oceanites pincoyae
Found: South America Image by: 1)
Claudio Vidal
2)
Cristián_Pinto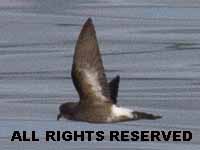 Petrel, White-vented Storm-
also
Elliot's Storm-petrel
Oceanites gracilis
Found: off the Pacific Coast of South America
Image by:
1, 2, 3) Dick Daniels
- Galapagos Islands 4)
David Cook
- Galapagos Islands, Ecuador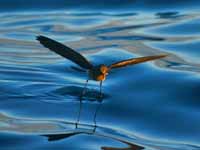 Petrel, Wilson's Storm-
Oceanites oceanicus
Found: The Americas, Europe, Asia, Africa, Australia Image by: 1)
Patrick Coin
2)
Putneymark
- Antarctica 3)
Dominique_Filippi
4, 5, 6) Dick Daniels - off Cape Hatteras, North Carolina at the Gulf Stream.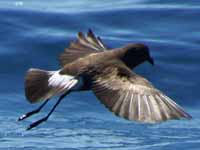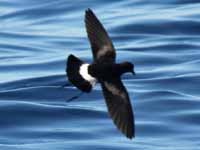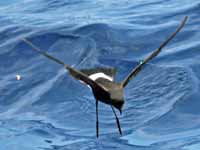 Genus Oceanodroma
They have square tail, short legs, short wings.
Petrel,_Ashy Storm-
Oceanodroma homochroa
Found: Pacific coast of North America Image by: 1)
Annie_Schmidt
2)
Duncan Wright
3)
Don Loarie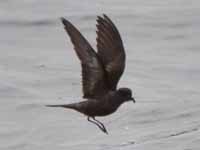 Petrel,_Band-rumped_Storm-
Oceanodroma castro
Found: The Americas, Europe, Asia, Africa Image by: 1)
Andre Raine
2) Richard Crossley
3,
4) Dan Irizarry
- North Carolina, Florida coast 5)
Julio Mulero
- North Carolina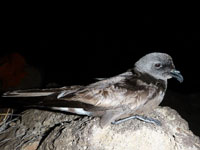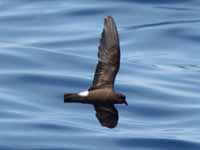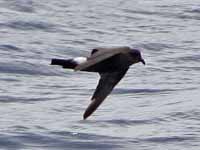 Petrel,_Black_Storm-
Oceanodroma melania
Found: western North and South America Image by: 1)
Ricardo Valenzuela
2)
Marcel Holyoak
- California 3)
Amy_McAndrews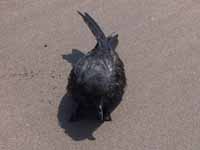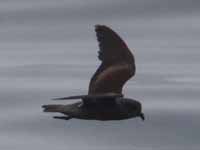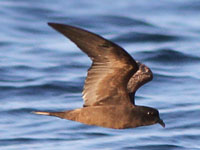 Petrel, Cape Verde Storm-
Oceanodroma jabejabe
Found: Cape Verde (islands off west coast of Africa) Image by: 1)
Serg iViudas
Petrel, Fork-tailed Storm-
Oceanodroma furcata
Found: North America, Asia Image by: 1)
C. Schlawe
, USFWS 2)
USFWS
- Alaska 3)
Marcel Holyoak
- California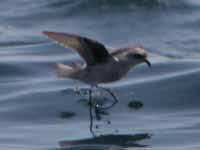 Petrel, Leach's Storm-
Oceanodroma leucorhoa
Found: The Americas, Europe, Asia, Africa, Australasia Image by: 1)
Naumann
2)
Schlawe
, USFWS 3)
Marvel Holyoak
- California 4)
Champagne for monkeys
- Nova Scotia
1, 2, 3) White rump form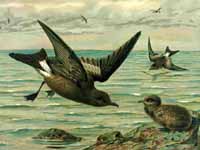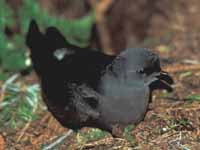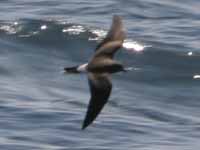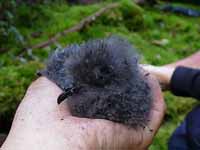 Petrel, Least Storm-
Oceanodroma microsoma
Found: west coast North America, Mexico, northern South America
Image by: 1)
Audubon
Petrel, Markham's Storm-
Oceanodroma markhami
Found: off west coast of Central and South America
Image by: 1)
Jaime Jahncke
Petrel, Matsudaira's Storm-
Oceanodroma matsudairae
Found: Australasia, Indonesia, Japan
Image by:
1,
2) Tony Morris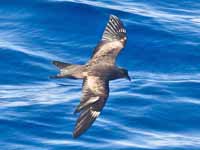 Petrel, Monteiro's Storm-
Oceanodroma monteiroi
Found: Azores of Portugal
Image by: 1)
kmmsp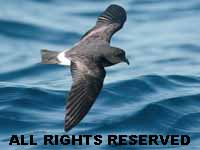 Petrel, Ringed Storm-
Oceanodroma hornbyi
Found: off west coast of North and South America Image by: 1)
Joseph Smit
2)
Cornelia Oedekoven
3)
Gunnar_Engblom
- Peru
Petrel, Swinhoe's Storm-
Oceanodroma monorhis
Found: Asia, Indonesia Image by: 1)
Rafael Matias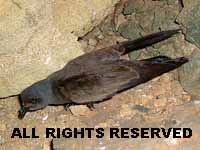 Petrel,_Townsend's, Storm-
Oceanodroma socorroensis
Found: off coast of Mexico
Image by: 1)
Brian_Sullivan
Petrel, Tristram's Storm-
Oceanodroma tristrami
Found: Japan, Hawaiian Islands
Image by:
1,
2) Duncan Wright
3)
Tony Morris
1) Chick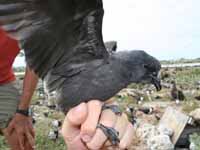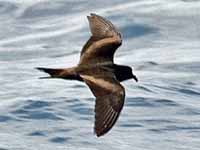 Petrel, Wedge-rumped Storm-
Oceanodroma tethys
Found: Off west coast Americas (Breeds Galapagos; off Peru) Image by: 1)
Brian Gratwicke
Genus Pelagodroma
- 1 species
Petrel, White-faced Storm-
Pelagodroma marina
Found: North America, South America, Europe, Asia, Africa, Australasia Image by: 1)
JJ Harrison
2,
3) AngrySunbird
4)
Australia Aviceda