The shrike families are:
Campephagidae
,
Laniidae
,
Malaconotidae,
Prionopidae
.
Shrikes
have a hooked beak that enables them to catch small animals and insects. They often impale their meals on thorns which explains the derivation of their name from the Latin word for butcher. They sit upright on the tops of shrubs and other conspicuous perches to spot their prey and also to advertise their presence to competitors. Their coloring is drab. Most shrikes are located in Africa, Europe, and Asia. They are closely related to the bushshrikes and helmetshrikes,. The live in relatively open spaces.
Genus Corvinella
Shrike,_Magpie
also
African Long-tailed Shrike
Corvinella melanoleuca
Found: Africa
Image by:
1,
6) Dick Daniels
- Kruger National Park, Sourh Africa 2)
Sandy Cole
- Kruger 3)
Nik_Borrow
4, 5) Dick
- Tanzania 7)
Tarique_Sani
- Tanzania 8)
Tude_e_Joao
- Botswana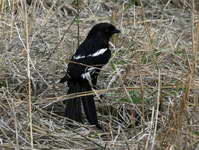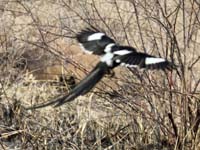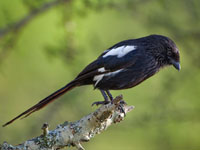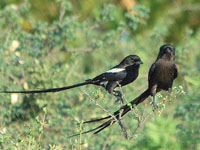 Shrike,_Yellow-billed
Corvinella corvina
Found: Africa
Image by: 1)
Tom Haslam
- Senegal 2)
JV Verde
- The Gambia 3)
Charles Sharp
- Gambia 4)
Nik_Borrow
5)
Gisela Braun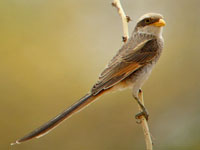 Genus Eurocephalus
Shrike,_Northern White-crowned
also
White-rumped Shrike
Eurocephalus rueppelli
Found: Africa
Image by:
1,
2) Carol Foil
- Buffalo Spring Reserve, Kenya 3)
Dick Daniels
- San Diego Zoo 4)
Nik_Borrow
- Tanzania
Shrike,_Southern_White-crowned
Eurocephalus anguitimens
Found: Africa
Image by: 1)
Frank Vassen
2)
Alistair Rae
- Namibia
3,
4) Derek_Keat
s - South Africa
Genus Lanius
These are the "true" or "typical" shrikes. Some are term fiscals, derived from an African word for "hangman", because they hand their prey on thorns for storage. Most of these shrikes have insects as their main prey, but some of the larger shrikes eat small birds, reptiles, and mammals.
Fiscal,_Gray-backed
Lanius excubitoroides
Found: Africa
Image by: 1)
Darren Bellerby
- Kenya 2)
Nik Borrow
- Uganda 3)
Steve Garvie
- Kenya 4)
Mu Tong
5)
Dick Daniels
- Lake Naivasha, Kenya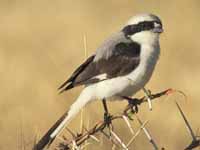 Fiscal,_Long-tailed
Lanius cabanisi
Found: Kenya, Tanzania
Image by: 1)
Frederic Salein
- Tanzania 2)
Carol Foil
3)
Dave Curtis
4,
5) Dick Daniels
- Nairobi National Park, Kenya
Fiscal,_Northern
Lanius humeralis
Found: Africa
Image by: 1)
Joseph Mochoge
- Kenya 2)
Lip Kee Yap
- Kenya 3)
Jerry Friedman
- Kenya
4,
5) Dick Daniels
- Hell's Gate National Park, Kenya
6) Dick
- Nairobi National Park, Kenya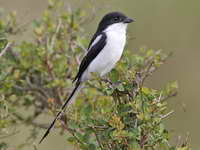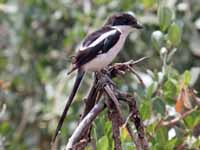 Fiscal,_Sao Tome
also
Newton's Fiscal
Lanius newtoni
Found: São Tomé and Príncip (west coast of central Africa)
Image by: 1)
Henrik Gronvold
2)
Klaus Ewald
1)
Bottom: Sao Tome Fiscal
2) Top: Uhehe Fiscal (
Lanius
(
collaris
)
marwitzi
)
Fiscal,_Somali
Lanius somalicus
Found: Ethiopia, Kenya, Somalia
Image by: 1)
Dick Daniels
- specimen in
Nairobi National Museum
, Kenya 2)
Steve Garvie
- Rift Valley, Kenya 3)
Steve Rooke
- Ethiopia
1) Immaturre molting to adult
Fiscal,_Southern
Lanius collaris
Found: Africa
Image by:
1,
3) Dick Daniels
- Johannesburg, South Africa 2)
Derek Keats
- South Africa 4)
Kevin O'Grady
5)
Cristiano Crolle
- Wilderness, South Africa
1) Juvenile
Fiscal,_Taita
Lanius dorsalis
Found: Ethiopia, Kenya, Somalia, South Sudan, Tanzania
Image by:
1,
4) Steve Garvie
- Kenya 2)
Dick Daniels
- specimen in
Nairobi National Museum
, Kenya 3)
Tarique Sani
- Tanzania 5)
Nik_Borrow
- Tanzania
1) Juvenile
Fiscal,_Uhehe
Lanius
(
collaris
)
marwitzi
Found: Tanzania
Image by: 1)
Henrik Gronvold
1) Top:
Uhehe Fiscal
(
Lanius
(
collaris
)
marwitzi
) 2) Bottom: Sao Tome Fiscal
Shrike,_Bay-backed
Lanius vittatus
Found: south Asia Image by:
1,
2) JM Garg
- India 3)
Tarique Sani
- India 4)
Davidvraju
- India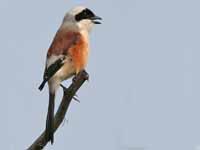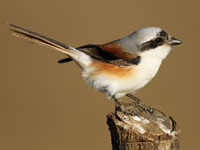 Shrike,_Brown
Lanius cristatus
Found: Asia, Africa Image by: 1)
Sergey Pisarevskiy
- western Siberia 2)
Vijay Ismavel
3)
Charlie Westerinen
- Thailand 4)
K C Hung
5,
6) Lin_Sun_Fong
- Taiwan 7)
JJ_Harrison
1 - 3) Female 4 - 7) Male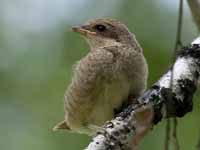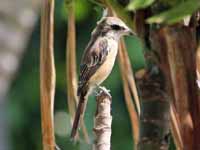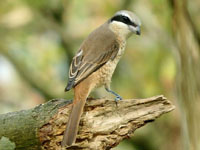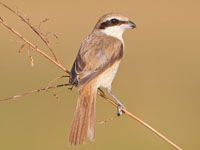 Shrike,_Bull-headed
Lanius bucephalus
Found: Asia
Image by:
1,
2) Hiyashi Haka
3,
4,
5) Alpsdake
6)
Paul
1, 2, 3) Female 4, 5, 6) Male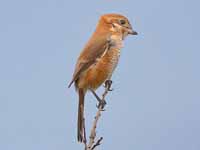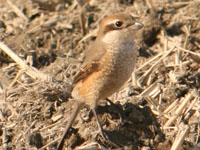 Shrike,_Burmese
Lanius collurioides
Found: southeast Asia
Image by: 1)
Sergey Yeliseev
2)
Wayne Hodgkinson
- Vietnam 3)
Jason_Thompson
- Thailand 4)
Mike_Rose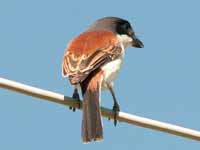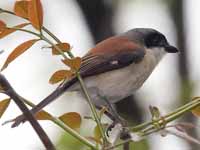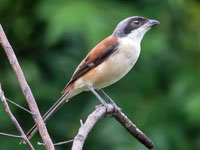 Shrike,_Chinese Gray
Lanius sphenocercus
Asia
Image by: 1)
Blake Matheson
- China
2,
3) Hiyashi_Haka
Shrike,_Emin's
Lanius gubernator
Found: dry areas in Africa
Image by: 1)
Mike and Helen Cox
2)
Nigel Voaden
- Cameroon
Shrike,_Gray-backed
Lanius tephronotus
Found: southeast Asia
Image by: 1)
Lip Kee
- Thailand
2,
3)
Vijay Ismavel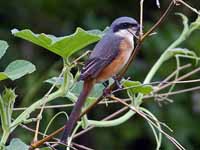 Shrike,_Gray-capped
also
Mountain Shrike
Lanius validirostris
Found: Phiippines
Image by: 1)
Chito
Shrike,_Isabelline
also
Rufous-tailed Shrike
Lanius isabellinus
Found: Asia, Africa
Image by: 1)
Imran_Shah
- Pakistan 2)
SJ Ahanmi
- United Arab Emirates 3)
Pkspks
- India 4) Ali Al-Mohannadi
1) Female 2 - 4) Male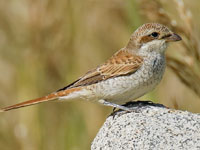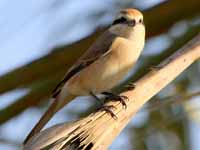 Shrike,_Lesser_Gray
Lanius minor
Found: Europe, Asia, Africa
Image by: 1) Bernard_Dupont 2)
Andy_Morffew
. 3)
Pim Stouten
- South Africa 4) Daniel Bastaja 5)
Vitaliy Khustochka
- Ukraine 6)
Nik_Borrow
- Tanzania
1) Juvenile 2) Female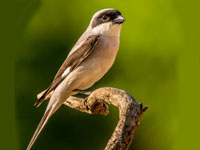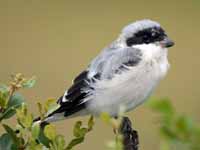 Shrike,_Loggerhead
Lanius ludovicianus
Found: North America Image by:
1,
2) Dick Daniels
- Florida
3,
4) Dick
- North Carolina 5)
Becky Matsubara
- California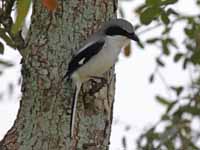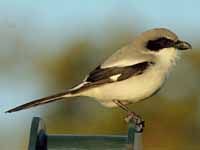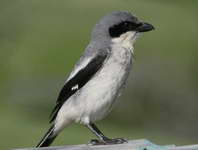 Shrike,_Long-tailed
Lanius schach
Found: Asia
Image by: 1)
Lip_Kee
- India 2)
Munish_Jauhar
3)
Alnus
- Taiwan 4)
Shantanu Kuveskar
- India 5)
Ansel.Ma
1) Juvenile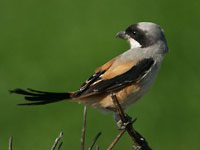 Shrike,_MacKinnon's
Lanius mackinnoni
Found: Africa Image by:
1,
4) Nik_Borrow
- Cameroon, Uganda 2)
Francesco Veronesi
- Uganda 3)
Peter_Steward
- Kenya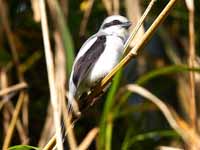 Shrike,_Masked
Lanius nubicus
Found: Europe, Asia, Africa
Image by:
1,
4) Durzan
2)
Clauia Becker
3)
Angie and Chris Pye
- Cyprus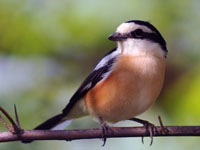 Shrike,_Northern
also
Great Gray Shrike
also
Northern Gray Shrike
Lanius excubitor
Found: North America, Europe, Asia Image by: 1)
Marek Szczepanek
- Poland 2)
Nik Borrow
- Senegal 3)
Ingrid_Taylar
Trebol-a
- Spain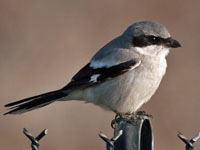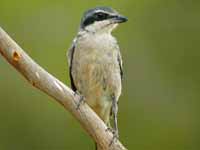 Shrike,_Red-backed
Lanius collurio
Found: Europe, Asia, Africa
Image by:
1,
5) Arno Meintjes
2,
4) Frank Vassen
3)
Imran_Shah
- Pakistan 6)
Antonios_Tsaknakis
1) Juvenile 2, 3, 4) Female 5, 6, 7) Male
Shrike,_Red-tailed
also
Turkestan Shrike
Lanius phoenicuroides
Found: Asia, Africa
Image by:
1,
2) Sergey Yeliseev
- Kazakastan 3)
Jrrobinantony
Shrike,_Southern_Gray
Lanius meridionalis
Found: Europe, Africa
Image by: 1)
Cristiano Crolle
- Monfrague, Spain 2)
Anders Olsson
- Oman 3)
Juan Emilio
4)
Frank_Vassen
- Canary Islands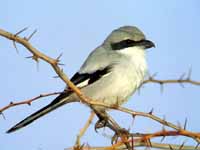 Shrike,_Souza's
Lanius souzae
Found: dry savannas of central Africa
Image by: 1)
Ron Knight
2)
Francesco Veronesi
3)
Peter_Steward
- Malawi 3)
Nik_Borrow
- Malawi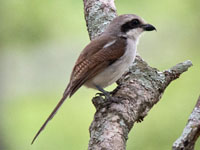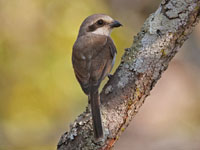 Shrike,_Tiger
Lanius tigrinus
Found: Asia, Indonesia, Malasi
Image by: 1)
Johnny Wee
- Singapore 2)
Lip Kee
- Singapore 3)
Melvin Yap
- Singapore 4)
Kia Bo He
1) Juvenile 2) Female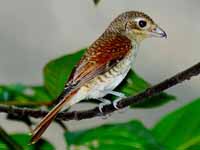 Shrike,_Woodchat
Lanius senator
Found: Europe, Africa
Image by: 1)
Causinho
- Spain 2) Muchaxo
3,
4) Durzan
5)
Agustin_Povedano
1, 2) Female 3, 4, 5) Male