New World quails are generally short winged, necked and tailed. The bills are short, slightly curved and serrated. The legs are short and powerful, and lack the spurs of many Old World galliforms. Although they are capable of short bursts of strong flight New World quails prefer to walk, and will run from danger, taking off explosively only as a last resort. Plumage varies from dull to spectacular, and many species have ornamental crests or plumes on the head. There is moderate sexual dichromisim in plumage, with males having brighter plumage. They are shy diurnal birds and generally live on the ground. They are generalists with regards to their diet, taking insects, seeds, vegetation and tubers.
New World Quails and
Old World Quails
are not closely related, but because of convergent evolution they have similar appearances and behavior.
Genus Callipepla
Quail,_California
Callipepla californica
Found: North America and Central America. Introduced in New Zealand
1, 2, 4, 5
) Alan D Wilson
- Vernon, British Columbia 3)
Dick Daniels
- New Zealand 6)
Jim Mullhaup
i
1, 2, 3) Female 4, 5, 6) Male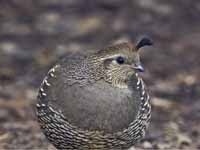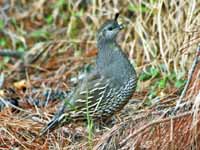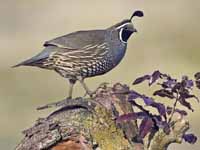 Quail,_Elegant
Callipepla douglasii
Found: Mexico
1,
2) Jorge_Montejo
- Sonora, Mexico
Quail,_Gambel's
Callipepla gambelii
Found: North America
1,
2,
4,
8) Dick Daniels
- Arizona at
Desert Botantical Gardens
3)
Alan D Wilson
- New Mexico
5, 6) Ted Grussing
in Arizona 7)
Dick
- the
North Carolina Zoo
1, 2) Juvenile 3, 4) Female 5 - 8) Male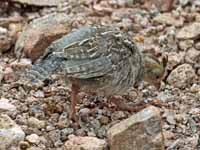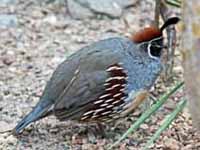 Quail,_Scaled
Callipepla squamata
Found: North America Image by: 1)
Brian Ungard
- New Mexico 2)
Ron_Knight
- Colorado 3)
Gary Kramer USDA
- New Mexico 4)
Gregory_Smith
- NM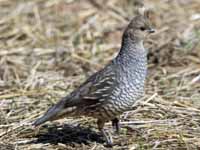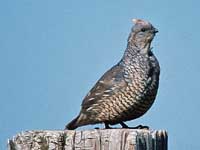 Genus Colinus
Bobwhite, Black-throated
also
Yucatan Bobwhite
Colinus nigrogularis
Found: Mexico, Central America
Amy_McAndrews
- Yucatan (Mexico) 2)
Cornell_Univ's_Neotropical_Birds_Online
- James_Batt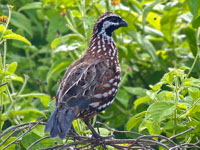 Bobwhite,_Crested
Colinus cristatus
Found: Costa Rica, Panama, northern South America Image by: 1)
Steve_Garvie
- Costa Rica 2)
Daisyree Bakker
- Netherland Antiles 3)
Barloventomagico
- Venezuela 4)
Alejandro_Tamayo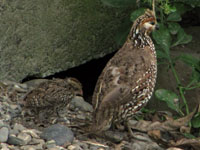 Bobwhite,_Northern
Colinus virginianus
Found: North America and Central America
1,
7) Dick Daniels
-
Sylvan Heights
2)
Dick
-
Arizona at Desert Museum
3)
Erin and Lance Willet
4)
Les Howard
, Georgia
5,
6,
8) Dick Daniels
- Cape Fear Acquarium, NC 9)
Brian_Stansberry
- Tennessee
1, 2, 3) Female 5 - 9) Male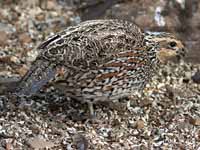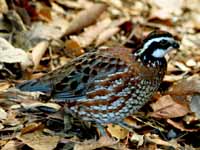 Genus Cyrtonyx
Quail,_Montezuma
Cyrtonyx montezumae
Found: Mexico
Jerry_Oldenettel
3)
Dominic_Sherony
4)
Dick Daniels
-
Sylvan Heights
1) Female 2 - 4)Male
Quail,_Ocellated
Cyrtonyx ocellatus
Found: Mexico, Central America
Cornell_Univ's_Neotropical_Birds_Online
- John_Van_Dort
Genus Dactylortyx
- 1 species
Quail,_Singing
Dactylortyx thoracicus
Found: Mexico, Central America
Image by: 1)
Amy_McAndrews
- Mexico 2)
Jerry_Oldenettel
- Mexico 3)
Nick Athanas
- Mexico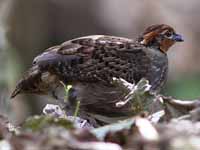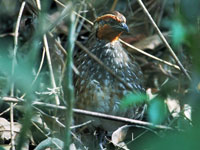 Genus Dendrortyx
The Wood-Partridges
Partridge,_Bearded_Wood-
Dendrortyx barbatus
Found: eastern Mexico
Cornell_Univ's_Neotropical_Birds_Online-Alberto_Lobato
Partridge, Buffy-crowned Wood-
Dendrortyx leucophrys
Found: Mexico, Central America Image by: 1)
Immelbatoast
2)
Cornell_Univ's_Neotropical_Birds_Online
- David_Arias
Partridge, Long-tailed Wood-
Dendrortyx macroura
Found: Mexico
Biodiversity_Heritage_Library
2)
Nick Athanas
- Mexico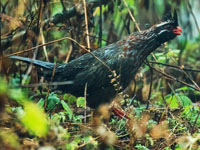 Genus Odontophorus
Quail,_Black-breasted Wood-
Odontophorus leucolaemus
Found: Costa Rica, Panama Image by: 1)
John_Gerrard_Keulemans
2)
David_Rodríguez_Arias
- Costa Rica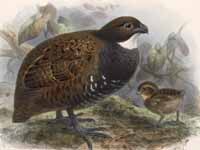 Quail,_Black-eared_Wood-
Odontophorus melanotis
Found: Costa Rica, Honduras, Nicaragua, and Panama. Image by: 1)
John_Gerrard_Keulemans
2)
Cornell_Univ's_Neotropical_Birds_Online
- Mikael_Bauer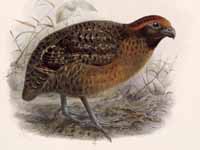 Quail,_Black-fronted_Wood-
Odontophorus atrifrons
Found: Columbia, Venezuela
Bryant_Olsen
2)
Nick Athanas
- Columbia
Quail,_Chestnut Wood-
Odontophorus hyperythrus
Found: Columbia
Francesco_Veronesi
Quail,_Dark-backed Wood-
Odontophorus melanonotus
Found: Columbia, Ecuador
Francesco_Veronesi
2)
Jerry_Oldenettel
- Ecuador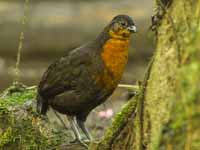 Quail,_Gorgeted Wood-
Odontophorus strophium
Found: Columbia
Salvatore_Chamu
2)
proaves.org
Quail,_Marbled_Wood-
Odontophorus gujanensis
Found: Costa Rica, Panama, northern South America
Smithsonian Wild
- Peru 2)
Francesco_Veronesi
- Costa Rica 3) Cornell_Univ's_Neotropical_Birds_Online - Ken_Rosenberg, Panama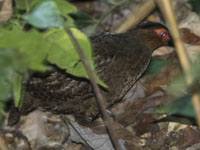 Quail,_Rufous-fronted_Wood-
Odontophorus erythrops
Found: Columbia. Ecuador
Cornell_Univ's_Neotropical_Birds_Online -Dale_Toweil
l - Ecuador 2)
Nick Athanas
- Ecuador
Quail,_Rufous-breasted_Wood-
Odontophorus speciosus
Found: Bolivia, Ecuador, Peru
Fernando_Angulo
2)
Cornell_Univ's_Neotropical_Birds_Online-Carlos_Calle
in Peru
Quail,_Spot-winged Wood-
Odontophorus capueira
Found: South America
1,
2,
3) Dario Sanches
- São Paulo, Brazil 4)
Brendan_Ryan
- Brazil
Quail,_Spotted Wood-
Odontophorus guttatus
Found: Mexico, Central America Image by: 1)
Hans_Norelius
- Costa Rica 2)
John_Whitaker
- Costa Rica 3)
Barbara_Dye
- Costa Rica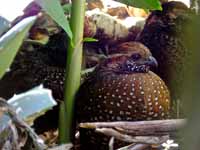 Quail,_Starred_Wood-
Odontophorus stellatus
Found: Bolivia, Brazil, Ecuador, Peru
John_Gould
2)
Cornell_Univ's_Neotropical_Birds_Online
- Roger Wasley
Quail,_Stripe-faced Wood-
Odontophorus balliviani
Found: in the Yungas of Bolivia and Peru
Salvatore_Chamu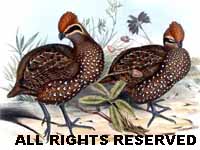 Quail,_Tacarcuna Wood-
Odontophorus dialeucos
Found: Columbia, Panama
Quail,_Venezuelan_Wood-
Odontophorus columbianus
Found: Venezuela
Image by: 1)
Salvatore_Chamu
2)
Jerry_Oldenettel
3)
Cornell_Univ's_Neotropical_Birds_Online
- David_Ascanio, Peter_Boesman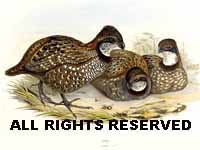 Genus Oreortyx
- 1 species
Quail,_Mountain
Oreortyx pictus
Found: western North America
1,
2) George Lamson
- Donner, California 3)
USFWS
4)
Aaron_Maizlish
- Califronia
Genus Philortyx
- 1 species
Quail,_Banded
Philortyx fasciatus
Found: Mexico
Free877
2)
Amy_McAndrews
3)
Cornell_Univ's_Neotropical_Birds_Online
- Jesper_Bay_Jacobsen
Genus Rhynchortyx
- 1 species
Quail,_Tawny-faced
Rhynchortyx cinctus
Found: Central America, Columbia
Diego_Calderon
2)
John_Gerrard_Keulemans
1) Female 2) Male