The Rockjumpers consist of two African species. There nearest relatives are unknown: perhaps babblers or thrushes.
Genus Chaetops
The rockjumpers forage on rocky terrain and frequently perch on rocks.
Rockjumper, Cape
Chaetops frenatus
Found: southernmost South Africa Image by: 1)
Mathew Wridgway
- South Africa 2)
Blake Mathewson
- South Africa 3)
Paul Bernard
- South Africa
1) Male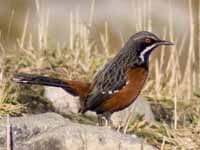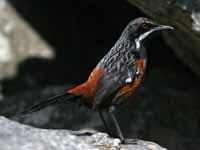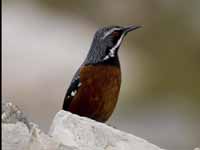 Rockjumper, Drakensberg
also
Orange-brested Rockjumper
Chaetops aurantius
Found: Drakensberg Mountains of South Africa Image by: 1)
Donald Macauley
2)
Finch-Davies
3)
Francesco Veronesi
1) Female 2, 3) Male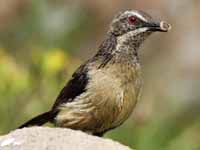 The rockfowl are also termed bald crows. Their closest relatives might be the crows, but the
Rail-babbler
has also be proposed.
Genus Picathartes
They have unfeathered heads, and feed on insects and invertebrates picked from damp rocky areas. Both species are totally non-migratory, being dependent on a specialised rocky jungle habitat
Rockfowl, Gray-necked
Picathartes oreas
Found: western Africa Image by: 1)
Casliber
2)
P_Khoo
3)
Nik_Borrow
- Cameroon
1) Gray-necked location shown in green.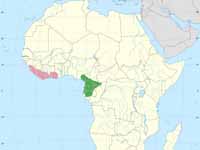 Rockfowl, White-necked
Picathartes gymnocephalus
Found: western Africa Image by: 1)
Casliber
2)
Michael Andersen
3)
GrahamC57
1) White-necked location shown in pink.