Pittas are a family of passerine birds mainly found in tropical Asia and Australasia, although a couple of species live in Africa. Pittas are all similar in general structure and habits. The name is derived from the word pitta in the Telugu language of Andhra Pradesh in India and is a generic local name used for all small birds. Pittas are medium-sized by passerine standards, at 15 to 25 centimetres in length, and stocky, with longish strong legs and long feet. They have very short tails and stout, slightly decurved bills. Many, but not all, have brightly coloured plumageThese are fairly terrestrial birds of wet forest floors. They eat snails, insects and similar invertebrate prey. Pittas are mostly solitary and lay up to six eggs in a large spherical nest in a tree or shrub, or sometimes on the ground. Both parents care for the young.
Genus Erythropitta
Found: southeast Asia and one species also in Australasia
Pitta,_Black-headed
also
Black-crowned Pitta
Erythropitta ussheri
Found: Borneo
Image by: 1)
Charles Sharp
- Borneo 2) Mike_Prince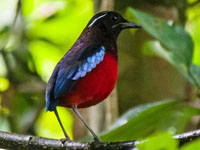 Pitta,_Blue-banded
Erythropitta arquata
Found: Borneo
Image by: 1)
Jacques_Erard
2)
Yeo_Siew_Teck
Pitta,_Garnet
Erythropitta granatina
Found: Borneo, Myanmar, Singapore, Thailand
Image by: 1)
Parinya_Padungtin
2)
hanifridz
1, 2) E. g.
coccinea
2)
Pitta,_Graceful
Erythropitta venusta
Found: Malasia, Indonesia
Image by: 1)
Dougjj
- Jurong Bird Park, Singapore 2)
Dave_Gandy
- West Sumatra
Pitta,_Papuan
Erythropitta macklotii
Found: New Guinea
Image by: 1)
Nicolas_Huet
Pitta,_Red-bellied
Erythropitta erythrogaster
Found: Australia, New Guinea, Philippines Image by:
1,
2) Katerina_Tvardikov
- New Guineaa 3)
Jason_Thompson
- North Sulawesi 4)
Francesco_Veronesi
- Luzon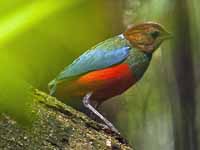 Pitta,_Sangihe
Erythropitta caeruleitorques
Found: Sangihe Islands of Indonesia
Image by: 1)
John_Gerrard_Keulemans
Pitta,_Sula
Erythropitta dohertyi
Found: Sula and Banggai Islands of the Philippines
Image by: 1)
John_Gerrard_Keulemans
2)
Filip_Verbelen
3)
Bram_Demeulemeester
Pitta,_Sulawesi
Erythropitta celebensis
Found: Sulawesi, Manterawu, and Togian Islands of Indonesia
Image by: 1)
Patko_Erica
2)
Bijdragen
1) Juvenile
Pitta,_Whiskered
Erythropitta kochi
Found: Luzon in Philippines
Image by: 1)
Joseph_Smit
2)
P_Khoo
3)
Yann_Muzka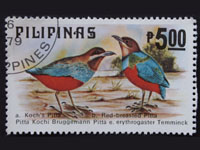 Genus Hydrornis
Found : southeas Asia
Pitta,_Bar-bellied
also
Elliot's Pitta
Hydrornis elliotii
Found: Cambodia, Laos, Thailand, Vietnam
Image by:
1,
3) Mohit_Kumar_Ghatak
- Vietnam 2)
Piyushgtg
- Vietnam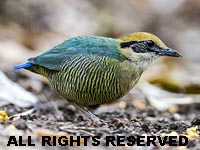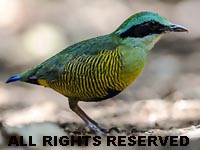 Pitta,_Blue
Hydrornis cyaneus
Found: China, India, southeast Asia
Image by:
1,
2) JJ_Harrison
- Thailand 3)
Jason_Thompson
- Thailand
1, 2) Female 3, 4) Male
Pitta,_Blue-headed
Hydrornis baudii
Endemic to Borneo Image by: 1)
Kokay Szabolcs
2)
Vun_Soo_Kiong
- Malaysia 3)
Charles_Leavell
- Malaysia
Mark_Gurney
2) Female 3, 4) Male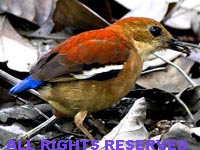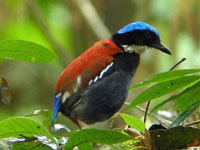 Pitta,_Blue-naped
Hydrornis nipalensis
Found: Bangladesh, Bhutan, China, India, Laos, Myanmar, Nepal, Vietnam. Image by: 1)
Rofikul_Islam
- India 2)
Jainy_Kuriakose
- India 3)
Marc_Ameels
4)
Imram
1) Juvenile 2) Female 3, 4) Male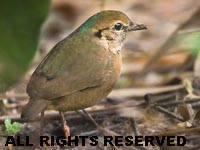 Pitta,_Blue-rumped
Hydrornis soror
Found: Cambodia, China, Laos, Thailand, Vietnam
Image by: 1)
Parinya_Padungtin
- Vietnam 2)
Mohit_Kumar_Ghatak
- Vietnam 3)
Yann_Muzka
- Vietnam
1) Female 2, 3) Male
Pitta,_Bornean-banded
Hydrornis schwaneri
Found: Borneo Image by: 1)
P_Khoo
2)
John_Gould
James_Eaton
2) Pair 3) Male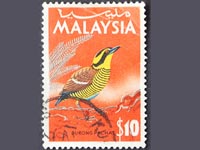 Pitta,_Eared
Hydrornis phayrei
Found: Bangladesh, Cambodia, China, Laos, Myanmar, Thailand, Vietnam
Image by: 1)
Outram Bangs
2)
James_Eaton
3)
Peter_Ericsson
- Thailand
1) Left - female, Right- male 2) Female 3) Male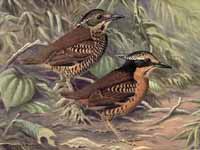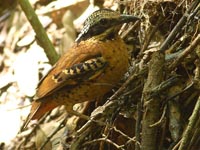 Pitta,_Giant
Hydrornis caeruleus
Found: Brunei, Indonesia, Malaysia, Myanmar, Thailand
Image by: 1)
Quarti
2)
Jacques_Erard - Borneo
3)
Cheng_Heng_Yee
- Thailand
1, 2) Female 3) Male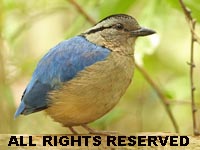 Pitta,_Gurney's
Hydrornis gurneyi
Found: Myanma, Thailand
Image by: 1)
Ron_Knight
2)
Francesco_Veronesi
3)
Michael_Gillam
1,2 ) Female 3) Male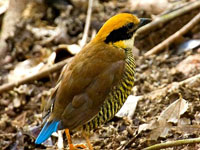 Pitta,_Javan-banded
Hydrornis guajanus
Found: Java and Bali Indonesia Image by:
1,
2) Doug_Janson
3)
Waskito_Kukuh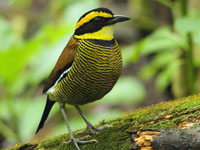 Pitta,_Malayan-banded
Hydrornis irena
Found: Thailand, the Malay Peninsula, Sumatra Image by: 1)
Hiyashi_Haka
2)
JJ_Harrison
- Thailand 3)
Jason_Thompson
- Thailand 4)
Francesco_Veronesi
- Thailand
Pitta,_Rusty-naped
Hydrornis oatesi
Found: hina, Laos, Malaysia, Myanmar, Thailand, Vietnam Image by:
1,
2) JJ_Harrison
3)
Jerry_Oldenettel
- Thailand 4)
Jason_Thompson
- Thailand
Pitta,_Schneider's
Hydrornis schneideri
Found: Sumatra in Indonesia
Image by:
1,
4) James_Eaton
2)
Justin_Rayboun_Smith
3)
Janos_Olah
1) Juvenile 2) Female 3, 4) Male
Genus Pitta
Found : mainly Asia; 2 in Africa; a few in Australasia
Pitta,_African
Pitta angolensis
Found: Afica Image by: 1)
Nrg800
2)
Graeme_White
3) Derek_Keats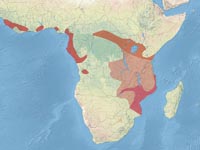 Pitta,_Azure-breasted
Pitta steerii
Found: Philippines
Image by: 1)
Philippine_Post
2)
Jainy_Maria
Pitta,_Black-faced
Pitta anerythra
Found: Buka Island in New Guinea, and the Solomon Islands
Image by: 1)
Katerina_Tvardikova
2)
Guy_Dutson
- Solomon Islands
Pitta,_Blue-winged
Pitta moluccensis
Found: southeast Asia, Indonesia, Malaysia Image by:
1,
5) Doug Janson
2)
JJ_Harrison
- Thailand 3)
Andy_Li
4)
Suzana_K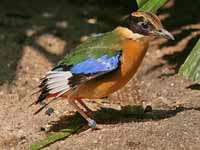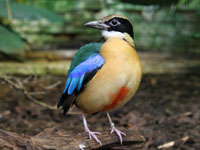 Pitta,_Elegant
Pitta elegans
Found: Lesser Sunda Islands in Indonesia and East Timor
Image by:
Jeff Delonge
2)
Peter_Ericsson
3)
Yann_Muzka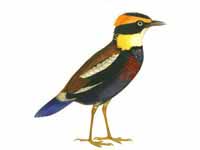 Pitta,_Fairy
Pitta nympha
Found: Borneo, China, Japan, South Korea, Taiwan Image by: 1)
Jason Thompson
- Thailand 2)
Alnus
3)
2015Hank
- Taiwan 4) Hiyashi_Haka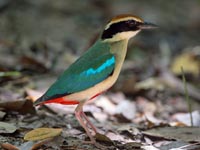 Pitta,_Garnet
Pitta granatina
Found: Asia
Image by:
Kokay Szabolc
Pitta,_Green-breasted
Pitta reichenowi
Found: Africa Image by: 1)
Greg_Miles
- Uganda
Pitta,_Hooded
Pitta sordida
Found: southeast Asia, Indonesia, Malaysia, Philippines, New Guinea Image by:
1,
2) Katerina_Tvardikova
- New Guinea
3,
4) Dick Daniels
- San Diego Zoo 5)
JJ_Harrison
6)
Jason_Thompson
- Thailand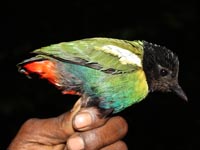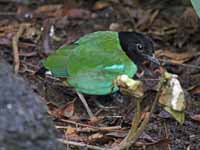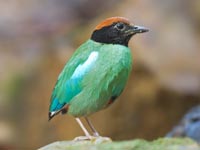 Pitta,_Indian
Pitta brachyura
Found: Asia Image by: 1)
nidhingpoothully
2)
Koshy_Koshy
- India 3)
Tarique_Sani
4)
Shantanu_Kuveskar
Pitta,_Ivory-breasted
Pitta maxima
Found: North Maluku in Indonesia
Image by: 1)
Marcel_Holyoak
2)
Yann_Muzka
Pitta,_Mangrove
Pitta megarhyncha
Found: Myanmar, Thailand, Malaysia, Indonesia Image by:
1,
3) Darren_Bellerby
- Singapore 2)
Dchai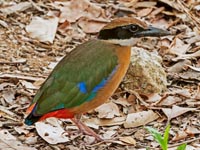 Pitta,_Noisy
Pitta versicolor
Found: Australia, Indonesia Image by:
1,
2) Carmy Carms
3)
Tatters
- Queensland 4)
David_Cook
- New South Wales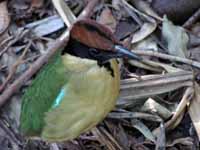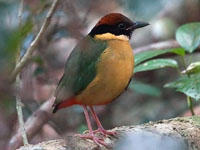 Pitta,_Rainbow
Pitta iris
Found: Australia Image by: 1)
Geoff_Whalan
- Northern Territory 2)
Leo_UdB
3)
Tom_Tarrant
4)
Lip Kee Yap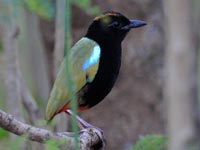 Pitta,_Superb
Pitta superba
Found: island northeast of New Guinea
Image by: 1)
Katerina_Tvardikov
2)
Geoff_Jones